Harvard University, Science Education Office
16 Divinity Ave
Suite 1087
Cambridge
MA
02138
United States
About Harvard University, Science Education Office

Harvard University, one of the oldest institutions of higher learning in the United States, currently enrolls more than 18,000 degree candidates from every state and territory in the United States and more than 100 nations of the world. With some 16,000 administrative and support staff members, Harvard provides a great variety of opportunities for individuals with diverse backgrounds.
People choose to work at Harvard for many reasons. There are even more reasons why they choose to stay for a career. At Harvard, there's the excitement of being part of a vibrant academic community, surrounded by people whose ideas are shaping tomorrow's news. There's the freedom to work creatively, to take the initiative, and to grow personally as well as professionally. There are the cultural, intellectual, and recreational resources that only a world-class university can provide. It is the quality of our opportunities - as well as the quality of our education - that has created our reputation for excellence. As a major institution, the University provides a firm foundation for future career development...the flexibility and mobility to utilize your skills in a variety of settings...and an outstanding benefits program. As an enterprise made up of many different schools, departments, libraries, museums, and research facilities, we offer small, collaborative work groups, each with its own personality and goals. Each invites you to experience the exceptional.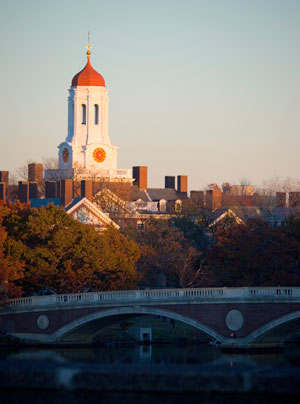 Our employees play a vital role in our strength as an international leader in education and research. Wherever you work at Harvard, your work affects the future - you are aiding in discovery, adding to the sum of human knowledge, or assisting in the education of tomorrow's leaders. Harvard's career paths can be grouped in three major categories. Whether your choice is Student Services, Academic Affairs and Research, or Administration and Management, you will find a wide range of professional and support opportunities here. Harvard University offers competitive salaries and a superior benefits package: Generous Time Off: 3-4 weeks of vacation per year, plus 11 1/2 holidays, sick days and personal time
Insurance: Medical, dental, disability and life insurance
Other Benefits: An excellent tuition assistance plan; a generous University-funded retirement plan; athletic facilities, and many other perks and discounts. We often offer flexible schedules. For more information on employment at Harvard University, as well as more details on our excellent benefits, visit our web site: http://www.hr.harvard.edu/jobs

We are an equal opportunity employer and all qualified applicants will receive consideration for employment without regard to race, color, religion, sex, national origin, disability status, protected veteran status, gender identity, sexual orientation or any other characteristic protected by law.
1 job with Harvard University, Science Education Office
Works as a member of a team of advisors to support undergraduate education in the Life Sciences concentration cluster. Teaches undergraduate courses.
-->